Reports have come in stating that William Karlsson is asking for $6.5 million annually in arbitration, while the Vegas Golden Knights are only offering $3.5 million.  The Knights' offer makes sense in terms of business negotiations, but it certainly doesn't reflect what Karlsson is worth to the franchise.
Many have argued that Karlsson's "career season" was a fluke and that it would be a huge gamble to expect that from him another year. After all, 78 points (43 goals, 35 assists) and a +/- score of 49 is an incredible feat after only posting 25 points the previous year.  But I, for one, believe that these numbers weren't the result of luck or him "peaking." Rather, I would argue that Wild Bill has finally found his stride and has been given the opportunity to shine when he wasn't before.
Here are 4 reasons we can still expect amazing things from William Karlsson in the coming years:
1. Chemistry:
Finding chemistry with your teammates can be one of the most important factors in how well a player performs in a team sport.  Last year, Karlsson finally found that chemistry with Reilly Smith.  Smith and Karlsson understand each other.  Reilly knows exactly where Wild Bill will be on the ice at any given time.  Reilly trusts that when he uses his speed and talent to get the puck in the offensive zone, Karlsson will be right behind him, in front of the goal waiting for the pass.  This trust and chemistry among two players usually takes years to build, but these two seem to have found it from their first game together.  It's special, and it's dangerous to the other team.  And when you add in the growing chemistry between those two and Jonathan Marchessault, you've got an unstoppable trio.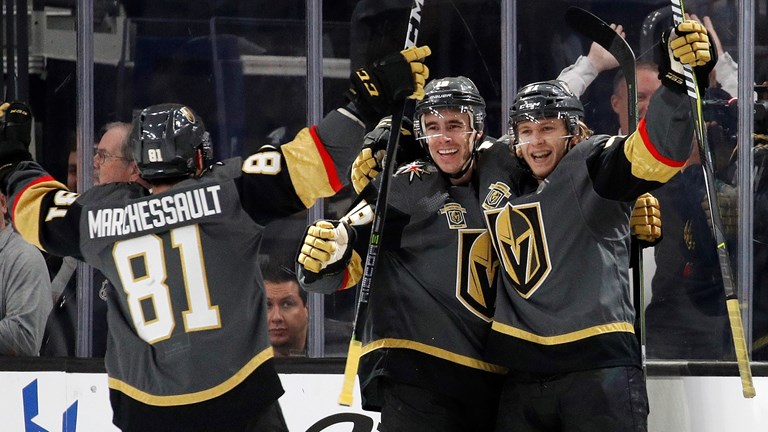 2. He knows his strengths:
After being left unprotected by the Blue Jackets, Karlsson went home and practiced his shooting to improve his accuracy.  That practice paid off and he learned where his strengths lie in terms of scoring potential.  He said once in an interview, when asked why his shooting percentage was so high, that he realized that he's not good at taking long range shots.  While other big scorers will take shots from all over the offensive zone, Karlsson knows that he's better at close range.  If he's not in a place that he considers a prime scoring position, he passes the puck to someone who's more likely to score.  This unselfish and intelligent approach to scoring has proven to be effective and will continue to help his game in the future.
3. Confidence and Opportunity:
Gerard Gallant has been fantastic in his approach to his players.  He empowers them and encourages them to do their best.  By giving them sufficient playing time, he is showing them that he has faith in their abilities.  This show of faith boosts their confidence. When players are confident, they play better.  As a third liner with the Columbus Blue Jackets, William Karlsson wasn't really given the chance to shine.  He was used primarily for his abilities on special teams.  Now that Karlsson has been given this opportunity to discover his talents, he will be able to continue to use them in the upcoming seasons.
4. Consistency:
From November 2017-January 2018 articles came out expressing shock and awe of Karlsson's scoring ability.  However they also all expressed doubt about his ability to maintain such a high shooting percentage.  Yet, in true Knights fashion, he proved the doubters wrong and continued to maintain one of the highest percentages in the league at 23.4%.  And there was never really a lull in his scoring.  Okay, maybe a minor one when Smith was out from an injury, but even during this time Karlsson continued to produce. Personally, I don't believe that kind of consistency is just a fluke.
Final Thoughts
If the Vegas Golden Knights have taught us anything, it's to never underestimate them.  While critics want to believe that Karlsson will slow down like others have done in the past, I believe he'll continue to prove them wrong.  Do I think he's gonna have another 40+ goal scoring season?  Not necessarily.  But I do believe that he'll continue to perform among the top centers in the league and that he should be paid accordingly.  Most likely the arbitrators will meet in the middle on Saturday and grant Karlsson a $5 million contract.  The Knights have the option to reject it and make Karlsson an UFA, but it's highly unlikely.  I just hope that the low ball offer from the Knights won't be taken by Karlsson as a reflection of doubt in his abilities.  He needs to know that the organization, the team, and his fans are behind him 100%.  As long as he knows that, we'll be Golden.