With Halloween right around the corner a lot of you might be figuring out your costumes, decorating your pumpkins, buying supplies for trunk or treat, or hosting a party. We have put together some creative ways our VGK Ladies are sharing their love for the Golden Knights and Halloween. Enjoy!
Yard Decorations
Creative for sure! A few of our VGK Ladies have gone all out to get in the hockey/Halloween spirit.
Check out this amazing display created by Bill and Danielle Taylor:
These photos were taken before the "ice" was laid, but we think Danielle's display is absolutely Brilliant!
Costumes
We have searched high and low, finding some of the cutest costumes out there. Our VGK Ladies are extremely creative and dedicated, all of them being HANDMADE costumes.
Pink Flamingo:
ADORABLE Hockey Player and Puck (with custom made VGK Pumpkin for trick or treating):
Chance:
Vegas Golden Knights Cheerleader:
Pumpkins
We found pumpkins are getting dressed up just as much as the children!
One office of lovely ladies held a pumpkin decorating competition. First place went to Lori Umland Burger for her #29 Fleury pumpkin. The arena had lights and music that played the theme song for when the Knights enter the ice.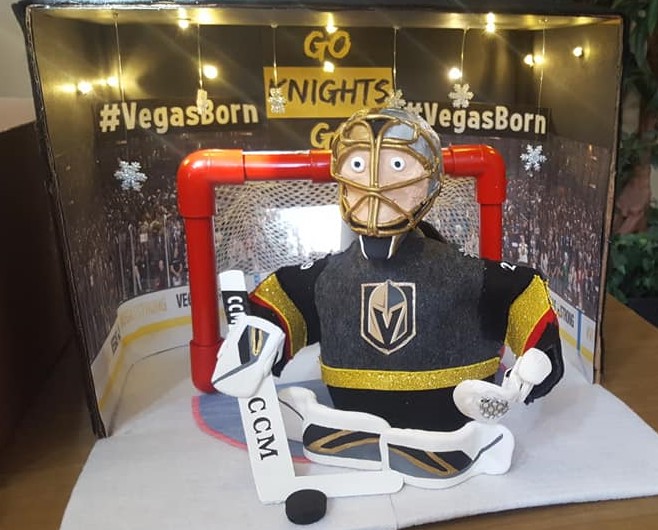 Knights fans are pretty impressive, right? If you made Vegas Golden Knights inspired Halloween decorations, show us your photos in the comments!
Decorating for a VGK Christmas? Send us your photos! Rachelle@vgkladies.com