Charlene Letchford is such a big fan of the Vegas Golden Knights that even her bathroom is decorated to support them! From the toilet to the towels, this bathroom all VGK.
We know there are many fans out there who share this same love of the Knights and would like to know how she did this, so we've asked Charlene to share her secrets. Here's how she did it:
Where did you purchase your VGK Items (bath towels, soaps, tissue box, etc.)?
Bath Towels– I embroidered these. My embroidery software has a "knock down stitch" that gets sewn down first and keeps the terry cloth loops from poking through the designs- so if you have yours done by someone- make sure you ask them to do this. (Charlene will be at our Silent Knight Vendor Fair selling embroidered towels and other great items)
Soaps– I got the soaps from Circus Soaps (they'll be at our Silent Knight Vendor Fair). Yes, we use them- they smell really nice! I bought extras to replace them as they get used.
Tissue Box-I've had the tissue box for awhile, it can be found on Overstock.com but is a bit pricey- the brass accents just happened to match the adhesive gold vinyl that I had lying around. I used a Cricut to make a decal for the box. Look for smooth boxes that will take decals well.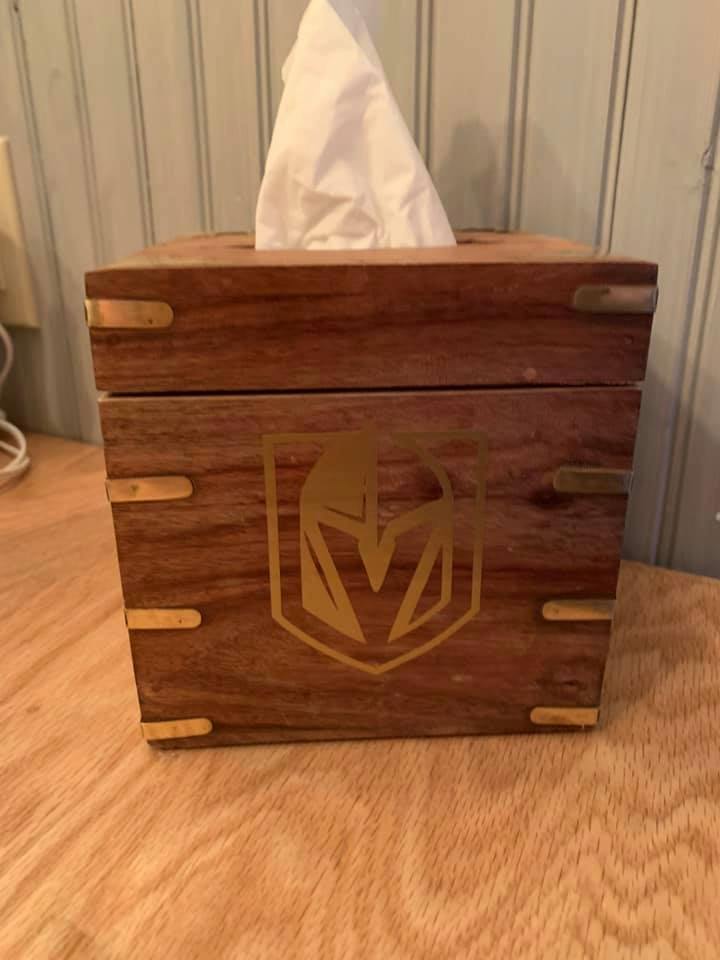 Toilet Paper Holder– Charlene made these from a hockey sock and embroidered fabric (that she made also).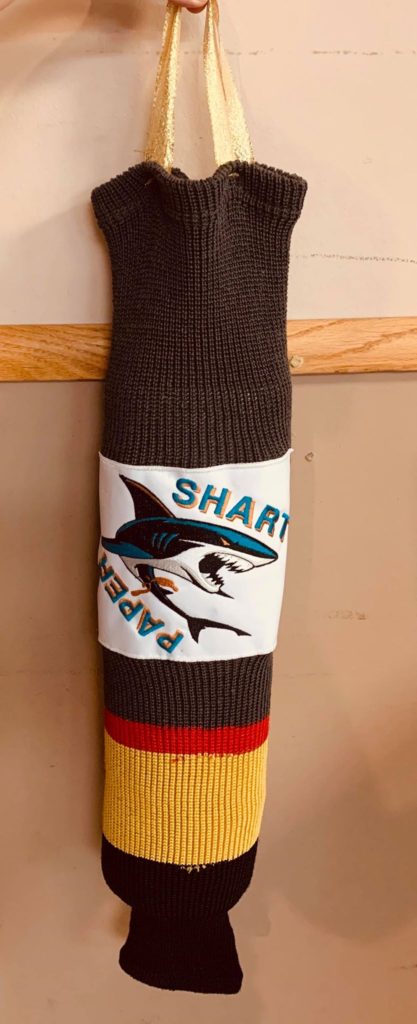 My best advice is always BOLO (be on the lookout) for grey and gold items in the bed/bath section of department stores and discount stores like TJ Maxx, Ross, etc. that can later be used in VGK décor. Stickers and decals to upcycle these things are pretty cheap, and lots of women (ie: your friends, neighbors and families) will have Cricut or similar machines to make them. For example- my next room will be a bedroom- so I've been grabbing up gold and grey accent pillows.
The flamingo décor is such a cute addition. Where did you purchase those finds? Did you find any place that has a big selection?
Same thing applies here, flamingos are trending everywhere now, so BOLO and buy 'em up. Once the trend passes, they will still be special to us, but hard to find. I got those beach towels at TJ Maxx last spring, the figurine was also just a random find at TJ Maxx.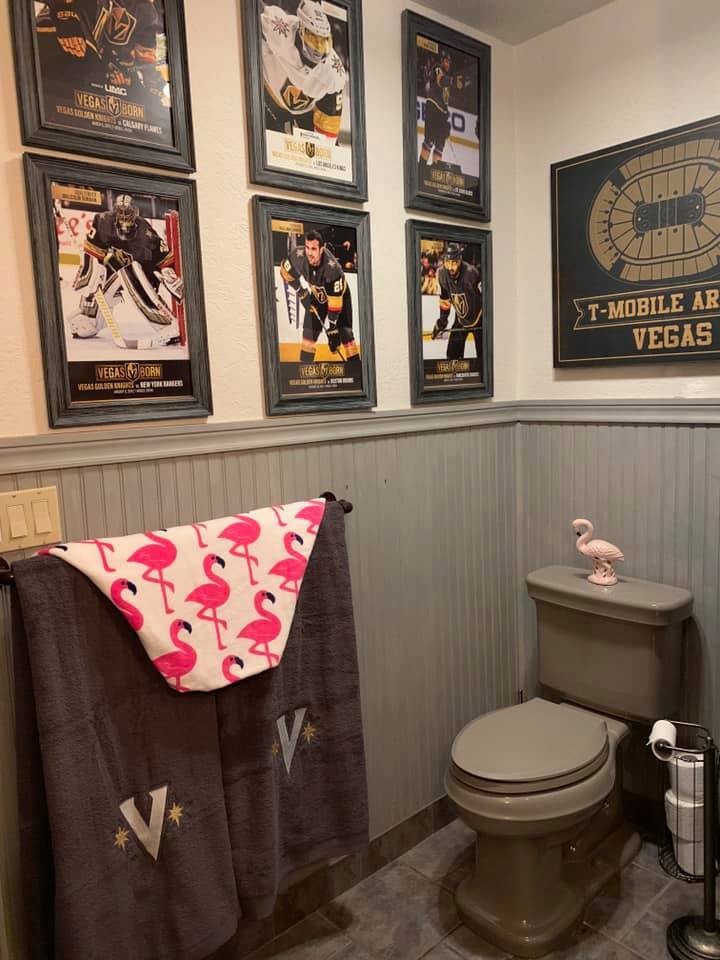 Where did you find the picture frames for the game day posters?
The player poster frames are from Michael's- never pay full price for frames there- they almost always have them half off or BOGO. The arena map was an Etsy find. The first game print was a give away during the playoffs season one. I covered the Toyota logo with a sticker I again made on my Cricut; I had the frame and mat cut and made to measure on pictureframes.com because Michael's wanted over $700 to custom frame it! It was just $200 including tax and shipping online.
The shower door is such a cool idea. Did you have a vinyl sticker made by someone?
I made this myself just like the tissue box one.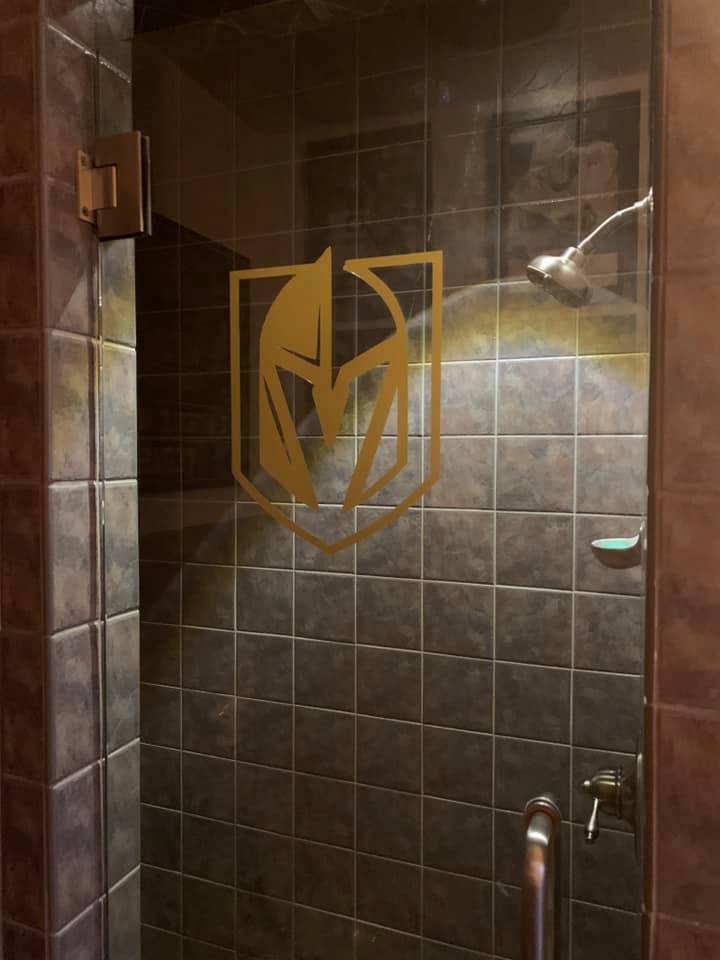 Did your bathroom already have the gray fixtures and toilet, or did you purchase specifically for your bathroom transformation? If so where did you purchase?
The bathroom wainscoting was already grey. It's not "real" wainscoting but beadboard with trim on top. The tile on the shower and walls was dark that the white toilet that was in there looked out of place. I had it replaced with one from Kohler- the color is "Cashmere". It's really a taupe kind of grey, there are other shades of grey and colors offered.
What was the most challenging part of your bathroom remodel and do you have any advice for our VGK Ladies?
Getting started…seeing the soaps on Etsy inspired me to just do it.

Love this bathroom and want to find great VGK products to decorate your house with? Come to our Silent Knight Festival and Vendor Fair!! Event details Here. RSVP on Facebook Here.