We know that Deryk Engelland is a man with integrity. From the moment Vegas residents heard him stand up and speak during our very first home game to honor those lives lost and impacted by 1 October, to the release of his non-profit, Engelland's Vegas Born Heroes; this city has been proud to call him one of our own. When kindness and decency exude another person, their spirit has a calming effect on us. There are so many stories throughout his time living in our city where others have been a recipient of his good deeds. Sometimes it's just a chat, other times in a truck full of new shoes. No matter when/where the interaction is, he leaves others with the impression of kindness.
One such person recalls how Deryk engaged in conversation with a teenager, carrying on about what teenagers talk about. As a mom of teenagers, sometimes I'm baffled by their ability to talk nonstop, but Deryk listened with intent and respect. Undoubtedly, every other word filled in, with the connecting word like, still following along as if he had nowhere else to be.
Then there's the story of the mom attending her son's hockey practice at City National, playing with Deryk's son. While engaged in simple conversation with him, she nursed the baby, (who happens to have Deryk as his middle name). He was an absolute gentleman, not averting his eyes from the conversation at hand one time.
One of our favorite stories we have been told is how he buys equipment for kids to commemorate a birthday, special holiday, or just because. One little guy has been the proud recipient of his generosity year after year since meeting him in 2014. So far, he has gotten 3 hockey sticks from him and when they run into each other, Deryk always makes time to ask how he's doing. That little boy has been shown how to give, with no exception of receiving, by the best of the best.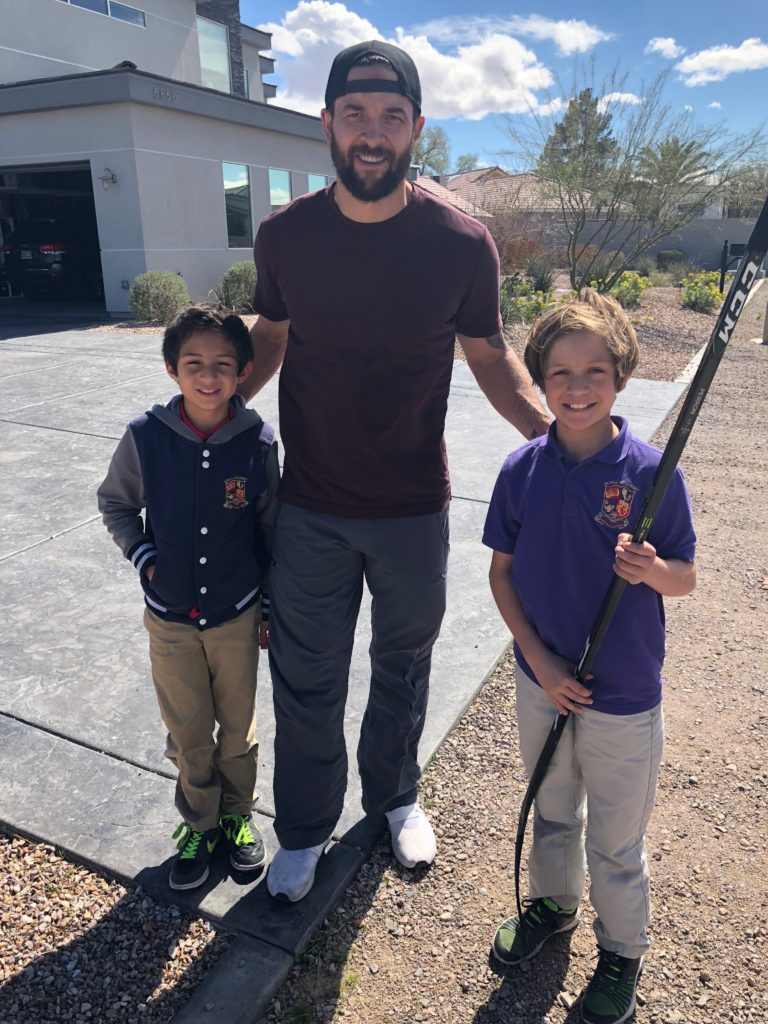 Be Like Deryk
He does all of this quietly and under the radar, without any expectation of receiving a thing in return. That is the true definition of altruism. The best gifts are the ones that we give freely. The trick is to get away from our egos and accept that we may not get something back. If just 50 people chose to "be like Deryk", the ripple effect of that kindness could be carried across our state's borders. As humans we know, we need kindness and integrity in this world more than anything else. Why doesn't everyone pick just one day, to Be Like Deryk?
Share your stories of VGK kindness with us on Instagram or Twitter by hashtagging your pic and story with #VGKindness and @vgkladies