I recently received a knock on our front door and found painted rocks left on our door mat. The painted rocks were from the kids next door. My kids were excited and wanted to go paint their own rock. I also had a friend of mine share pictures of rocks her children found while taking a walk. I thought how easy it is to paint a rock and how this simple idea of "Painting it Forward" can make someone smile.
To learn how to paint your own rock, we have provided this tutorial.
Supplies
Smooth River Rock
Acrylic Paints or Sharpie Markers
Paint Brushes
Mod Podge (Optional)
(Due to our recent COVID-19 quarantine, some supplies might be hard to find.)
Step One: Prepping Your Rocks
I picked river rocks located in my backyard. You will want to pick rocks with a smooth flat surface and large enough to paint the design you have in mind.
Bring them inside and clean them. Scrub them like you would a potato. I used a little bit of dish soap as well.
Place them on the counter to dry. I thought they would dry a little faster on a drying rack, but I think they would have been better laying outside in the sun. This step took the longest. I let them dry overnight, so they are completely dry when I went to paint.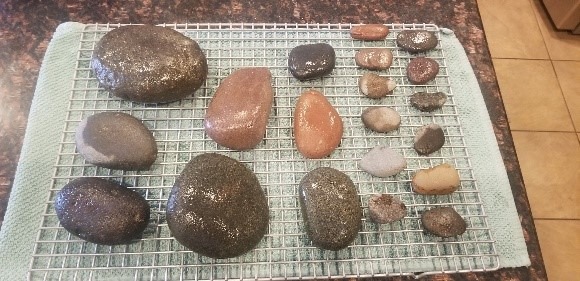 Step Two: Base Coat
You will want to cover your rock with a base coat of paint. Paint one side of the rock and let it dry. Turn rock over and paint the other side. I was surprised at how fast the paint dried on the rocks.
Step Three: Painting Your Design
If you do not have paints on hand, sharpie markers will work too. Let your creativity take over. You can paint a VGK jersey, VGK letters, a hockey player, a logo, a favorite players number or even Chance. Don't worry about being perfect, this is supposed to be fun! A sprinkle donut is a fun idea. Paint a white oval for the middle, paint around the edge and top for your frosting, and add some colorful sprinkles.
Step Four: Sealing Your Rocks (Optional)
You can put a layer of Mod Podge to seal the paint. Place one layer on each side, letting it dry before you flip over. You will want to wait until the Mod Podge is completely dry before place the rock; if it sticks to something, your paint will come off. I placed mine on some wax paper for a day or two. You can also place it on a glass plate.
---
Where will you place your rock? My challenge to you is to place it at another VGK Ladies' front doorstep. Painting it Forward! If you receive a special hand painted rock, tag us on social media (@VGKLadies). We want to see how creative our ladies can be and how far the smiles can spread.
For questions, or to order any of the crafts you've seen on this page, contact Rachelle O'Dell at rachelle@vgkladies.com.