Many of you know Jules from interacting in our FB group, but we'd like you to get to know her a little better. Our Fan Spotlight for the week is Jules Burian!
Tell us about yourself (family, job, etc)…
I work at the VA hospital.
My wife Laura and I live in Providence. We have been here 2 & 1/2 years
and love it. Laura is a retired cop of 31 years. I am done with the snow and cold of the Midwest. Done done
done done done.
My sons are grown, and now we enjoy having daughters too (their
wives). Waiting on enjoying grandkids. My hippy dippy son, Nehemaih, and
wife live in Portland. He does something with computers. Jonathan is a
Pastor; he and his wife live in Illinois. His wife Emilee was born in
Canada, so she is all about hockey. She has come to Vegas to see her
Hurricanes, and we've joined in Chicago to see our AHL teams battle
it out for the Calder Cup. She is my spirit animal.
I have seen Donny and Marie 8 times. I tell my kids there was a day I would have loved to be the mother of his children, so they can call him "daddy Donny".
How did you become a fan of the Vegas Golden Knights?
I won free tickets to a preseason game season one. All it took.
I was so upset our season this year was cut short that I had to follow our
AHL affiliate, Chicago Wolves, to Iowa, San Diego, and now Chicago.
Who is your favorite player, and why?
Nosek. He is from "the land of my people" 🙂
(But I do have two Reaves jerseys)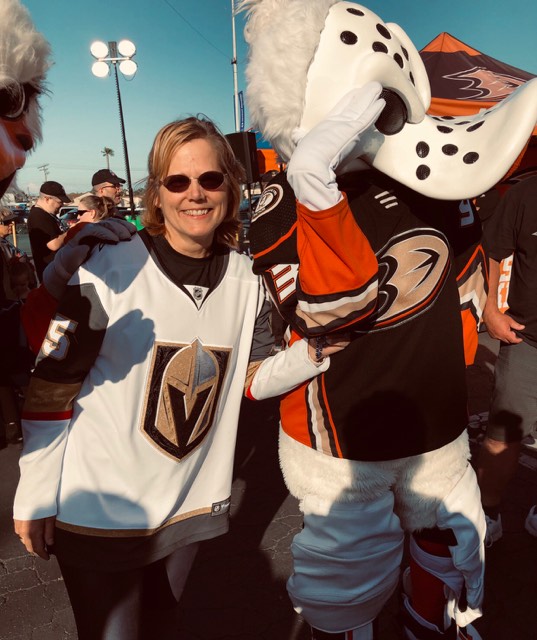 Do you have any game time traditions?
Always eat at Chronic Tacos.
Do you have any hockey superstitions?
Always have to high five Tom, our usher. When he is not there, I get a
little out of sorts.
If you can't attend a game, where is your favorite place to watch, and why?
Well if I can't attend, it's an away game- CNA is nice. Have to eat
pizza. And we'll shop….
Name 3 things outside of hockey that you're interested in.
1) Riding motorcycles
2) Truth be told: penny slots
3) I just starting that hobby called "binge watching". We watched OZARK.
I saw my first episode of "Game Of Thrones" and now all of season one. I
can see Amazon Prime and Netflix suck the life out of me.
Do you have any special talents?
I paint rocks
I have a therapy dog (Elphie, a black lab)
I am a practical joker
What is your favorite part of being a VGK Lady?
Honestly I have a hard time meeting people and making friends. VGK
Ladies helped me get out of my comfort zone and get myself out there.
With hockey, I have instant friends. I love the sense of community.