May 6th Playoff Game: San Jose vs Colorado
It's game 6 for the Sharks vs Avalanche series. Sharks are up 3-2 and are looking to advance after tonight. Of course most Knights' fans would rather that not happen, so tune in tonight at 7pm PST to cheer on the Avalanche!
Vegas Golden Knights Celebrate Teacher Appreciation Week
Want to show your child's teacher some love this week? Give them a gift card for Knights gear and send them over to City National Arena for 10% off at the Arsenal. CNA is also offering teachers one free public skate session this week.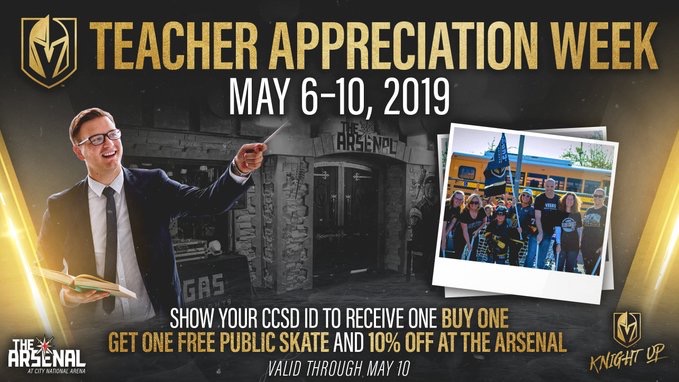 Want to give them something a little more personal? Check out our tutorial for a Knights themed pot, or come back tomorrow for a list of great gift ideas for Teacher Appreciation Week and Mother's Day!
Knights in IIHF Men's World Championship
Marchessault, Stone, and Theodore will join Team Canada in the IIHF Men's World Championship beginning May 10th. You can watch their first game against Finland at 7am PST on NHL Network. To cheer for Team USA to beat Slovakia, tune in at 11am PST.
NHL Fantasy Players
The NHL has compiled a list of 35 "fantasy-relevant players" that become restricted free agents in July. Included on that list is our very own William Karlsson. Of course most of these players will continue to sign with their current team, and the list is for fantasy purposes, but it is possible that these players could turn down their Qualifying Offers and entertain offers from other teams. To see which desirable players may be up for grabs (if the price is right), click here.