You know, there are several reasons to love the players for the Vegas Golden Knights. Whether it's Marc-Andre Fleury's ninja moves, William Karlsson's classic hair flips or Ryan Reaves' boxing capabilities, there is something to love about every one of our players. Today, though, we want to focus on one in particular: first-line winger Jonathan Marchessault.
1. His name rolls right off the tongue
Let's get one thing straight. It's not MARCH-AZ-SALT.
Please don't be like Lazlo Holmes (Chance the Rapper) in the above clip. Marchessault (or Marchy, as his adoring fan club calls him) pronounces his name as Mar-chez-so. "The LT is kinda…silent."
Still, it's so fun to say, and exciting to hear the announcers call out when that puck squeaks past the poor, unfortunate goalie into the opponent's net.
2. His sense of humor is on point
You literally cannot help but give at least a small chuckle when this guy is on screen or the focus of media attention. You thought Fleury was the team prankster? Marchy has some tricks of his own up his sleeve!
Plus, let's not forget this masterpiece of the duo attempting to play Heads Up! The pigeon part gets me rolling every time.
3. He's a relatable family man
He has a gorgeous wife and four beautiful children (including one adorable baby), all of whom he does try to keep private, but loves to show them off when the time calls for it. That shows his dedication to being a great husband and an amazing father. He's been quoted as saying, "The thing that gets me going every day is making sure my kids are proud of me." Awww!
Let's not forget how he interacts with the fans. Kids are instantly magnetized to him, and the likewise proves true for him as well. He interacts with any younger fan that he can. What isn't there to love about a super involved player?!
4. His determination never falters, only grows
I didn't really know about Marchessault until late in the first season, when the Golden Knights were on their way to playoff contention and proving everyone wrong. Even then, I didn't realize his depth as a player.
Flash forward two years, and he's truly grown into his own, past his Florida Panther days. He is now on the first line of an extremely popular team and even led in goals and points last year.
He's always striving to be better and show his skills, even in practice! The caption of this Tweet says it all!
5. The relationship he has with his team (specifically his linemates)
Marchessault serves on the Golden Knights' first line with William Karlsson and Reilly Smith, and their bond is just…A +. The Karlsson-Smith pairing has been the talk of analysts over penalty kills, but the whole first line is just top notch.
I mean, look at these guys! From exuberant cellies to palling around here and there, Marchy and his teammates really became thick as thieves. He must have a magnetic personality that just draws folks to him!
6. His wardrobe choices
The "Gold Carpet" event for the Golden Knights is always an affair. You get to wish the players well as they begin their regular season run, maybe get an autograph or two, and get to peep their lavish wardrobes.
Marchy is someone who is always extremely dapper, very well dressed. That even includes when he makes more…daring choices, such as this suit-short combination.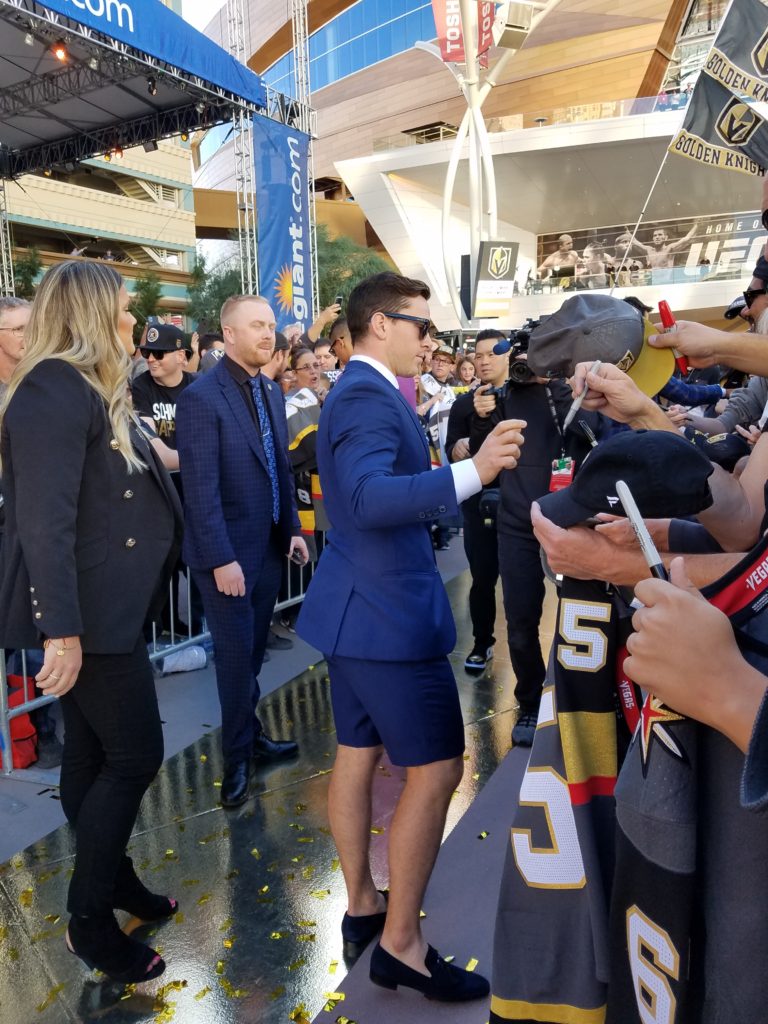 7. He's a feisty spider monkey
He may seem like a gentleman, but once you get Marchy fired up, you better look out. Who could forget the frustration he expressed after the "Not A Major" loss last year? He was quite vocal and had a few choice words for the NHL and their officiating staff.
If you mess with his teammates, you're history. Take the most recent game against the San Jose Sharks, when, after San Jose managed to finally score, Marcus Sorensen went after Nicolas Hague. Immediately, the Golden Knights came to the defense of their teammate, including Karlsson (winner of the Lady Byng for being the most gentlemanly). When Joe "Grandpa Shark" Thornton had Karlsson in a corner, Marchy went on the offensive. You don't touch the hair!
8. We're never bored watching him
Marchy is one of those players who keeps us on our toes. You know he's going to score. That much is certain. When or how? Those are the factors that remain the mystery. Sometimes, he scores in the clutch, with just seconds to spare to tie the game. Sometimes, he's squeaking one past the goalie and getting the crowd prepared for more to come. Either way, he's reliable and exciting.
What are your reasons for being in the Marchessault March? We want to know! What's missing from our list?