Our fan spotlight this week is VGK Lady Heather Spaulding. Heather is a sweet person with a good heart. We asked her a few questions to help everyone get to know her. Here's what she had to say:
Tell us about yourself (family, job, etc)…  
My name is Heather Spaulding. I have been married to my high school sweetheart for the last 29 years (33 years together).  We have two boys. Our oldest is 29 and lives in Los Angeles, and my youngest is 25 and just moved to Las Vegas. I am a pediatric registered nurse and I am currently in school to become a nurse educator.
How did you become a fan of the Vegas Golden Knights?
I have been a hockey fan for the last 40 years.  Growing up in New
England (Maine) I followed our national college hockey program (UMaine
Black Bears) and the Boston Bruins.  When we were looking to relocate in
2016 we knew we wanted to live in an NHL hockey community so we chose to move to Las Vegas because we knew Vegas was getting the team.  We
immediately signed up for season tickets…and the rest is history!!
Who is your favorite player, and why?
Marc-Andre Fleury!! I am a goalie mom so I tend to adopt the goalie as my #1 player.  Beyond Fleury, I would have to say Schmitt for his personality, but I really do love them all!
Do you have any game time traditions?  
I sing along with the national anthem (even though I am the worst singer).  I just love Carnell Johnson's rendition because it is so traditional.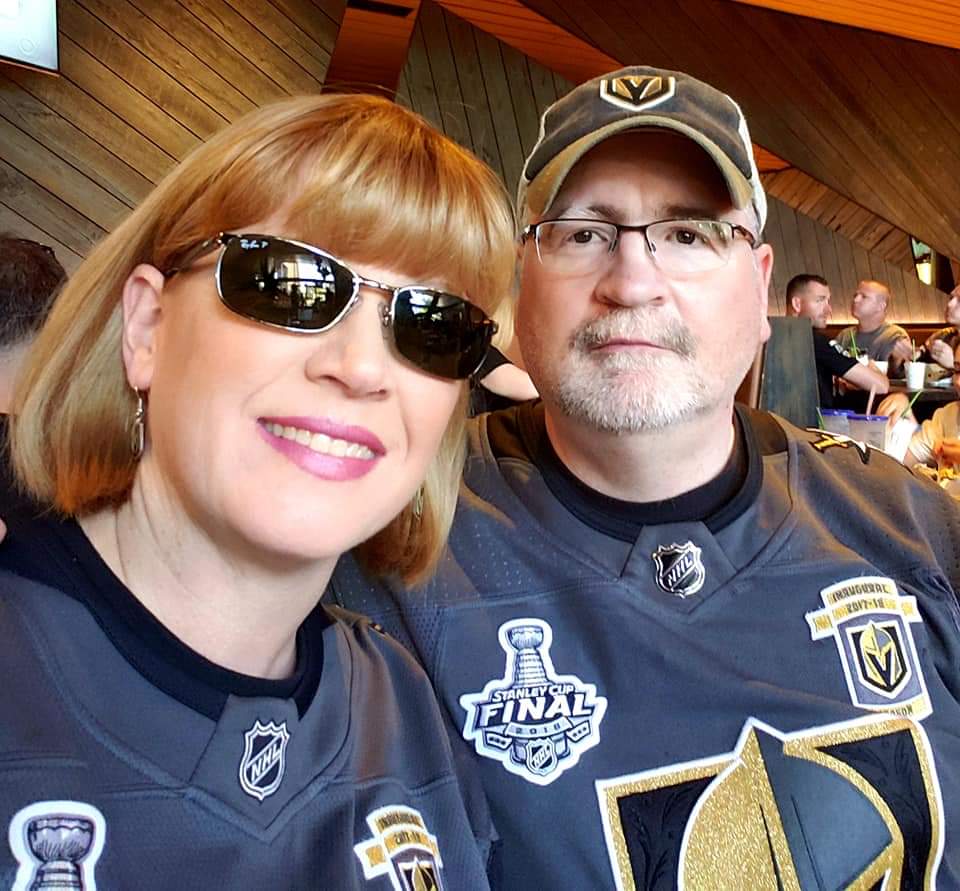 Do you have any hockey superstitions?
If the boys are winning, I have to wear the same clothes to the game.  If we hit a rut, I will change it up (I do wash my stuff between games…well, except for my jersey).
If you can't attend a game, where is your favorite place to watch, and why?  
For away games, I love to get together with friends for a "watch
party". We will try out different places for the game or we will take
turns at each others houses.
Name 3 things outside of hockey that you're interested in.
1.) I like to run 5Ks.  I may not be the best at it but it gives me a sense of
accomplishment. 2.) I like to go to the movies.  We are a huge movie
family, especially action movies. The only movies I don't like are scary
movies…..I want to watch movies to be entertained, not to pee my pants
or have nightmares (I know it is all fake, bit it still scares me).  3.)
I love to travel and find new places to go with my family. My boys and
husband are very special to me and we try to find new things to do at
least once a year.
Do you have any special talents?
Not really. I can crochet and sew, but I am no expert.
What is your favorite part of being a VGKLady?
 I love the VGK Ladies as a way to meet new people who have a love for hockey, like me!  I have met some amazing ladies over the past two years.