The first day of playoff hockey season is like Christmas Day for some people. They're amped up, excited, waiting to rush to a screen and see Lord Stanley deliver their team a win in a nice, shiny bow.
That's what Golden Knights fans were hoping for yesterday during Game One against the San Jose Sharks. We were craving to see Ryan Reaves and Joe Thorton go at it after their last meet-up in the regular season. We all were praying for those sweet through-the-legs William Karlsson goals so we had a big, beautiful W sitting under our tree.
Unfortunately, due to bad behavior (and some crummy officiating from Lord Stanley's elves – the referees), the Golden Knights received a lump of coal.
While the Sharks came to play last night, the Golden Knights were a bit lackluster. They never once took the lead during this game, in goals anyway. In giveaways and penalties, they were kings.
The first period alone saw eight giveaways by the Golden Knights, and two takeaways from the Sharks. There were five takeaways by the Sharks in the second period along with three in the third, and four giveaways by the Golden Knights. The puck-handling for the Golden Knights was less than stellar.
There were also some pretty crazy penalties dished out all night last night. Brendon Dillon was issued a penalty for roughing Marchessault (rightly so, because he punched Marchy in the head for no reason), but then the referees issued a penalty against Marchessault for unsportsmanlike conduct (some say it was for embellishing the effect of the hit).
Because of penalties, the game saw a rare 3-on-3 situation at one point. If there was an opportunity for the Knights to pull ahead, it would have been then.
Sadly, it was the Sharks who took advantage of the situation. Brent Burns squeaked a goal past Fleury, and not even a minute later, Marc-Edouard Vlasic did the same thing. Things were looking bleak with a 3-0 score for the Sharks.
Mark Stone wasn't having any of that. He responded with a goal of his own to finally put Vegas on the board, but it was short lived when Evander Kane answered with a goal as well. Stone came back in the third to get Vegas up 4-2, but an empty-net goal by Tomas Hertl allowed San Jose to seal the deal at 5-2.
We did get to see a little humor come through from Marc-Andre Fleury. Haley managed to skate into Fleury, and in a clamor to get back to his feet, Fleury had some fun with the guy, taking off his helmet before teasing him a bit. Even though he was being tested, it was reassuring to see he was in good spirits.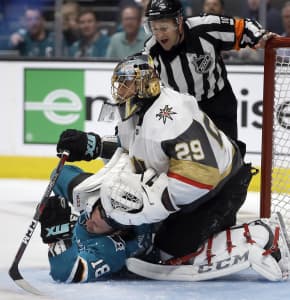 Hopefully the Golden Knights can add some pressure in the remaining games of this series to turn this lump of coal into a first round victory diamond.