Allow us to introduce you to a very special VGK Lady. Meet Sue; whose story is inspiring, touching, and absolutely adorable. We must warn you, make sure to have a box of tissues nearby. Her words as she describes losing the love of her life and discovering her newfound love of hockey and the Vegas Golden Knights will hit you in all the feels.
Tell us about yourself
I'm 57, from Pierre, South Dakota, and lived in Vegas since 1988. I worked at the Rio for 28 years and just transferred last week to Harrah's Las Vegas. I'm an Executive Assistant who supports 2 GM's and 1 VP of Hotel Operations. I LOVE MY JOB and all the people I work with. I recently lost my husband to pancreatic cancer last year (only lived 6 weeks after diagnosis). We were married 28 years, together 29, and he was the love of my life. I'm extremely heartbroken. I have 3 grown boys and 5 grandkids who are the love of my life.
How did you become a fan of the Golden Knights?
An old boss/co-worker had bought season tickets and I started asking him questions about how to play hockey. I didn't know any of the rules, I didn't even like sports and never went to any games or watched any sports on TV. Once he started explaining the rules and telling me how exciting and fun the games were, I started watching them on TV. I couldn't even keep my eye on the puck, lol. I never knew where it was half the time. But, as time went on I started to enjoy watching it on TV and my old boss/co-worker would explain more and more to me about the rules/game each week, and then it became exciting. The only thing that I didn't like at the time, was the fighting. I didn't even know they were allowed to do that. Now it's fun to watch. The players have such passion for the game, and for their team, which I love. I finally got to attend a couple of games and now I'm hooked! Last year I went to quite a few more games as well, buying single-game tickets, a few tickets were gifted to me, and searching high and low on the Ticket Exchange, etc., for deals. We even traveled to Phoenix for a game with my kids/grandkids. After Oct. 1, the VGK has really brought this city together. Their love for Las Vegas and our love for them is insane on all levels. I have gravitated towards the VGK after the loss of my husband because they make me happy. I enjoy going to the games, rooting them on and just having fun. They have really helped me move forward with my devastating loss. I wish I could let them know that and hopefully, someday I can. I will probably cry but they need to know how much they have helped me. I'm also a recent partial season ticket holder this year (14 games), and have bought 3 additional games. I LOVE the VGK!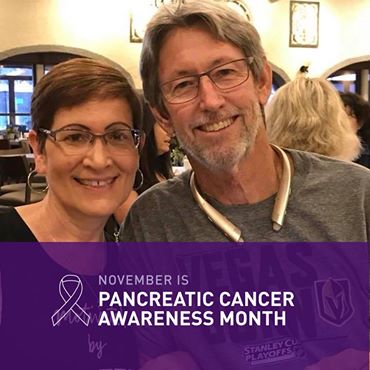 Who is your favorite player and why?
Fleury is my absolute favorite! He's very humble, his love for the team, Las Vegas, the fans (very approachable when it comes to pictures/autographs when he is out in public), jokester, love watching him play. He gives me goosebumps. The first jersey I ever bought was a Fleury jersey and I wear it with pride! I can't wait to actually meet him in person. My second favorite is Marchy. I wear his jersey too. I got to meet him in person at the Wine on Ice event, and he signed the back of my jersey while I had it on. It totally made my day. Very sweet, funny, cute, jokester, just love him too. I love them all but those are my 2 favorites.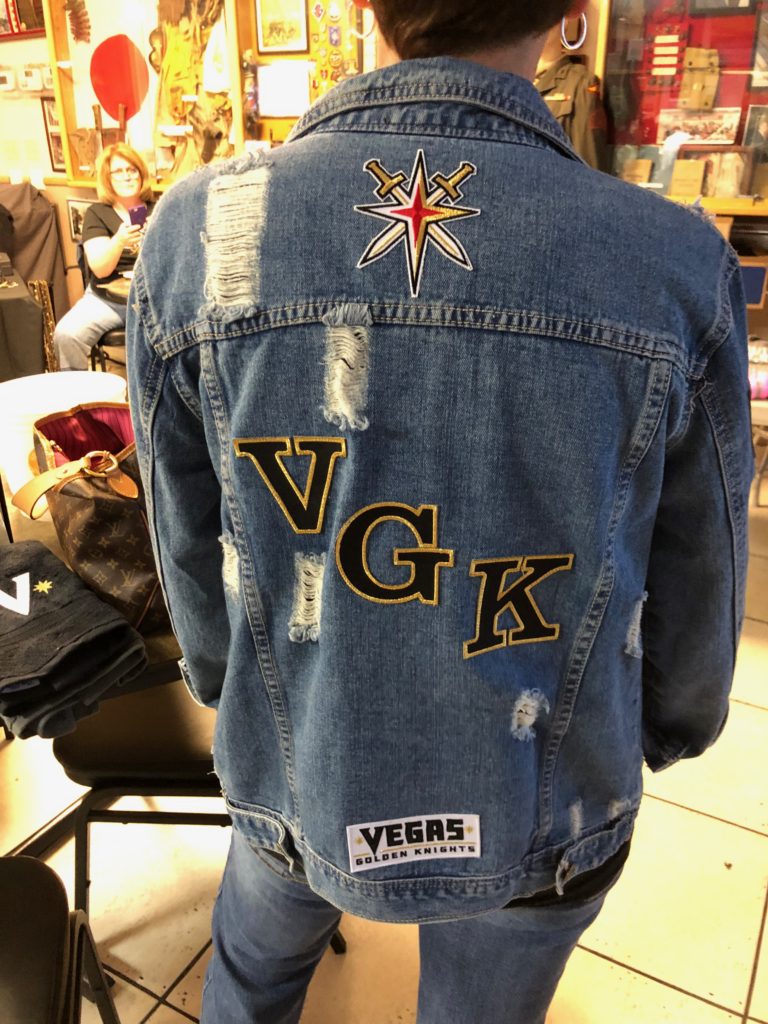 Do you have any game-time traditions?
Of course, I try and get to the game at least 2 hours early. We start at Shake Shack and work our way down to the Fortress. I love The Park area and all it has to offer….DRINKS, food, games, music, all the VGK crazy and fun fans. The fans are all so nice. One big happy family. Hands down, the best thing to do. I also wear a jersey to every game and my gold converse shoes.
Do you have any hockey superstitions?
Nope, none!
If you can't attend a game, where is your favorite place to watch and why?
I usually go over to my son's house to eat before the game, play with my grandkids, then watch the game. I would like to attend some watch parties, but since I'm by myself now, I would never go alone.
Name 3…or 4 things outside of hockey you're interested in.
1 – I love, love, love to travel!
2 – Watching and playing with my grandkids.
3 – I love to shop, go out for drinks/dinner with my friends, movies.
4 – I would really like to meet some more KNIGHTS!
Do you have any special talents?
Ha, no!
What is your favorite part of being a VGK Lady?
I found this group and joined after I lost my husband. We did everything together, so learning how to be and do things alone and going by myself to places has been extremely hard for me. The VGK ladies makes everyone feel so welcome, they are all super nice, they don't judge anyone for anything, and they all like to have fun and do fun things. I love going to the brunches, patch events, watch parties and meeting new friends. I recently met for a happy hour with a few of the ladies that I met at one of the brunches and we had a blast. I love the Facebook page too, it has so much information and I love the posts. Everyone helps everyone out, just love them!
I also love, love, love the BLEACHER DIVAS! I wear their shirts proudly.
Thank you Sue, for sharing your inspiring love of the team with us.
Don't forget, tonight is the watch party on the field of the Las Vegas Ballpark. We hope to see you all there. And if you see Sue, give her a great-big VGK Ladies hug.