Meet Kristin Cantrell. She is an active member of the VGK Ladies group and a season ticket holder for the Vegas Golden Knights. We asked her a few questions to get to know her. Here's what she had to say…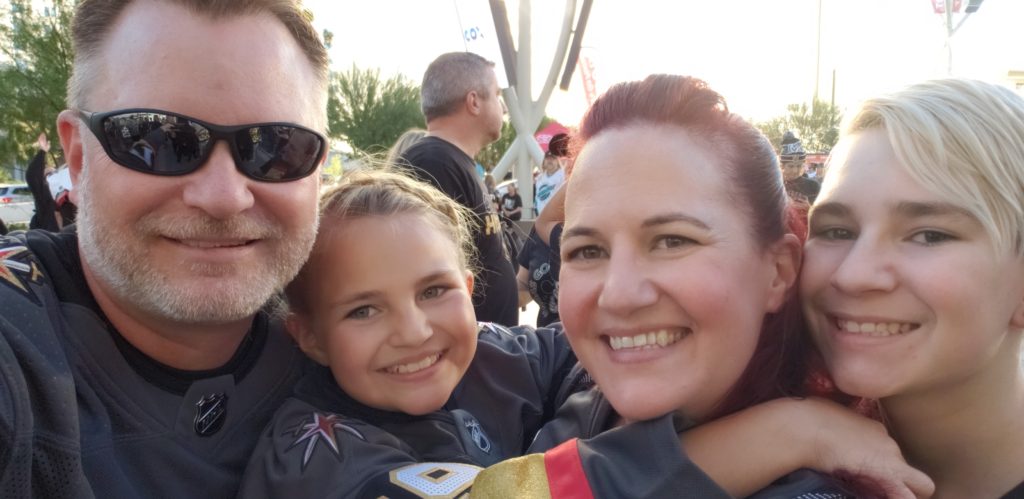 Tell us about yourself (family, job, etc)…
I was raised in Montana, where I got married, moved to Calgary and had my son, then moved to Vegas where my daughter was born. After spending most of my life in gymnastics, either competing, coaching, or judging, I went back to school when I moved here, and now work in the medical field and LOVE it.
I try to keep a sense of humor about things, like having cancer surgery
and saying I got hit in the face with a hockey puck! It makes it way
cooler! ????
How did you become a fan of the Vegas Golden Knights?
I was introduced to hockey as a kid but had to travel to Calgary to actually go to games. When we lived there, the Flames had Iginla and Kiprusoff, and hockey fever consumed the city. I didn't fall in love with the game and a team though, until I had the Knights to cheer for; They are something
special. They lifted this city and gave us something to cheer for.
Something good that even my kids can get into. We went to as many games
as we could the first year, including all the post season games, and
became season ticket holders soon after.
Who is your favorite player, and why?
I love Carrier. I love how he plays all out, all the time. He carries defenseman on his shoulder most of the time and has come a long way. He's also young and learning very quickly. I'm excited to see how he develops! Sentimentally I love what Bellemare does for the team. He's uplifting and the heart of it all, Engo is the soul. It wouldn't be VGK without him.
Do you have any game time traditions?
GOLD GOLD GOLD! Get dressed up and get in early to watch warmups on the glass. I love the smell and that energetic spark that you can feel from down there!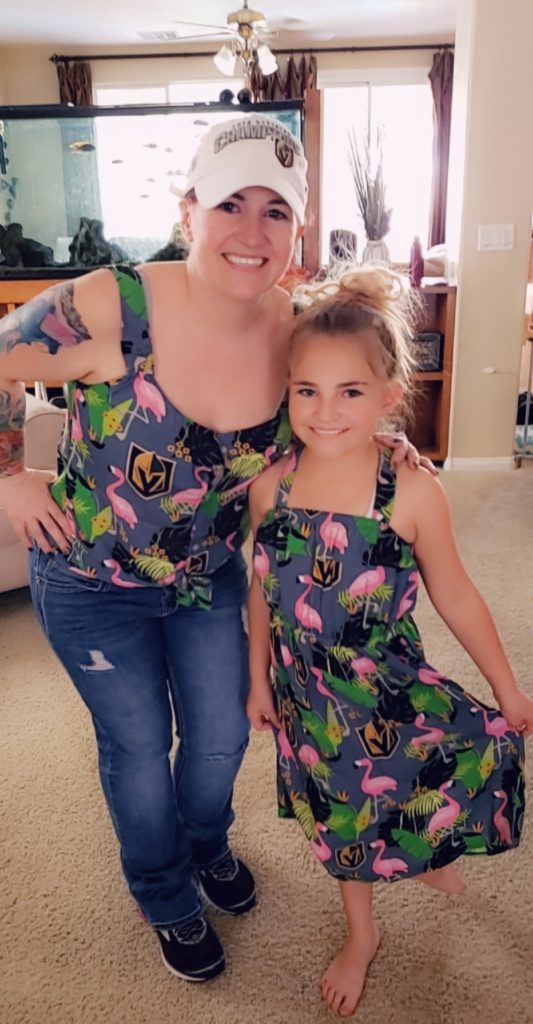 Do you have any hockey superstition?
No. Maybe a jinx? If you hit 3 posts in a game you'll lose. A friend's son told me that and it seems to hold true…
If you can't attend a game, where is your favorite place to watch, and why?
I like PKWY Tavern cause they'll let us bring the kids, but I love my
couch. I can be as loud as I want and tweet all night long in my VGK
PJs and fuzzy socks!????
Name 3 things outside of hockey that you're interested in.
I ride a motorcycle with my hubby, I review books, and play with my family as much as I can.
Do you have any special talents?
I was a dancer as well as a gymnast so I pick up choreography quickly. It's too bad my body is old cause I know all the Aces routines! Hahaha!
What is your favorite part of being a VGK Lady?
There are numerous groups out there but none are more accepting and fun as our ladies! There's no judgement or condescension, just sharing the love of our Knights in any way we can.
If you see Kristin at the games or around town, be sure to say Hi!