Vegas Golden Knights fans with kids are often looking for places to watch the game in an environment that is both fun, and family-friendly. In an effort to reduce the work of parents, I took my son to Buffalo Wild Wings in Centennial Hills to see if it passes the VGK Ladies standards as a great place to watch the game. Here's what I found:
What We Rated Them On:
View of the Game
Sound quality
Price
Food quality
Kid-Friendly- non-smoking, no one bumping in to them or obstructing their view, comfortable, kid's menu
Each category can get a possible 10 points, with 50 points being a perfect score.
Ratings:
View of the game- 9 points.
BWW is separated in to two rooms. Each room has TVs lining the walls almost all the way around. No matter where you were sitting, or what direction your chair was facing, you had a great view of a TV playing the game. Not every TV played the Golden Knights game, but this wasn't a bad thing. If every TV played the VGK game, it might have been overkill (if that's possible). By playing other sports on some tvs (the smaller ones), BWW makes it possible to enjoy the hockey game, while your friends or family enjoy their favorite sport as well. If Buffalo Wild Wings had a very large projection screen, I would have given them 10 points.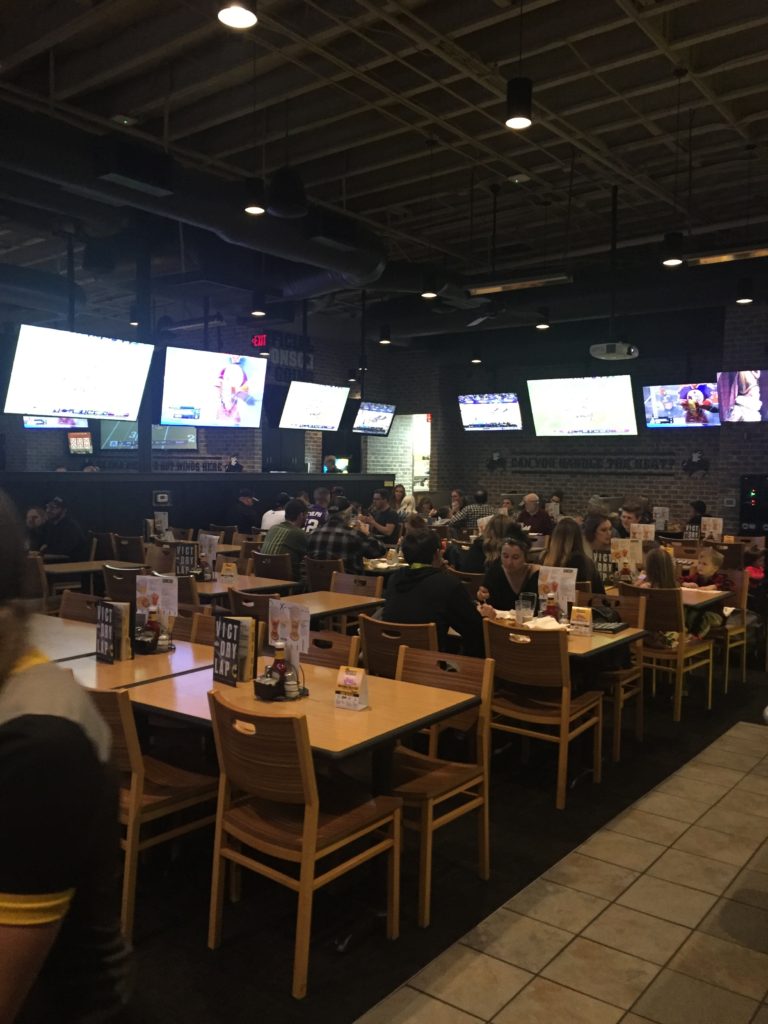 Sound Quality- 10 points
The game that I went to was an early one. I believe the game started at 5pm that day. We got to BWW at 4:45pm. The sound was on the football game. I asked the waitress if they were going to play sound for the Knights game and she said they would switch over when the game started. At 5pm the sound switched over and we were able to listen to a little bit of the pre-game show before the puck dropped. The sound quality was great and the volume was perfect for a family atmosphere (loud enough to hear, but not so loud that you can't hear your kids). **I've heard reports of some BWW not playing the sound, but I know that if requested, they will make it a priority over non-Vegas teams.
Price- 9 points
Most restaurants are pretty close in price when compared with similar types. Buffalo Wild Wings is slightly better priced then most right now. I got a drink, an appetizer, a meal, and a kids meal for only $26, and I probably could have just eaten the appetizer and been totally fine, saving $10.
Food Quality- 7 points, or 10 if you're in the mood for wings
We all know they have amazing wings that I could rate a 10, but I decided to order something different. I got Street Tacos as an appetizer, and Buffalo Mac and Cheese as my meal. I was really excited about the street tacos, but was a little disappointed. They had way too much sauce on them (fixable) and were a little spicier than I expected. I liked them, but not as much as I thought I would. I was told the buffalo mac and cheese was a crowd favorite. It was fine. I liked it, but it isn't something I'll specifically go back for. I was impressed with the kids mac and cheese though. Normally you pay $5 for a .99 box of Kraft, but BWW actually gave him "homemade" Mac and cheese. My picky eater loved it.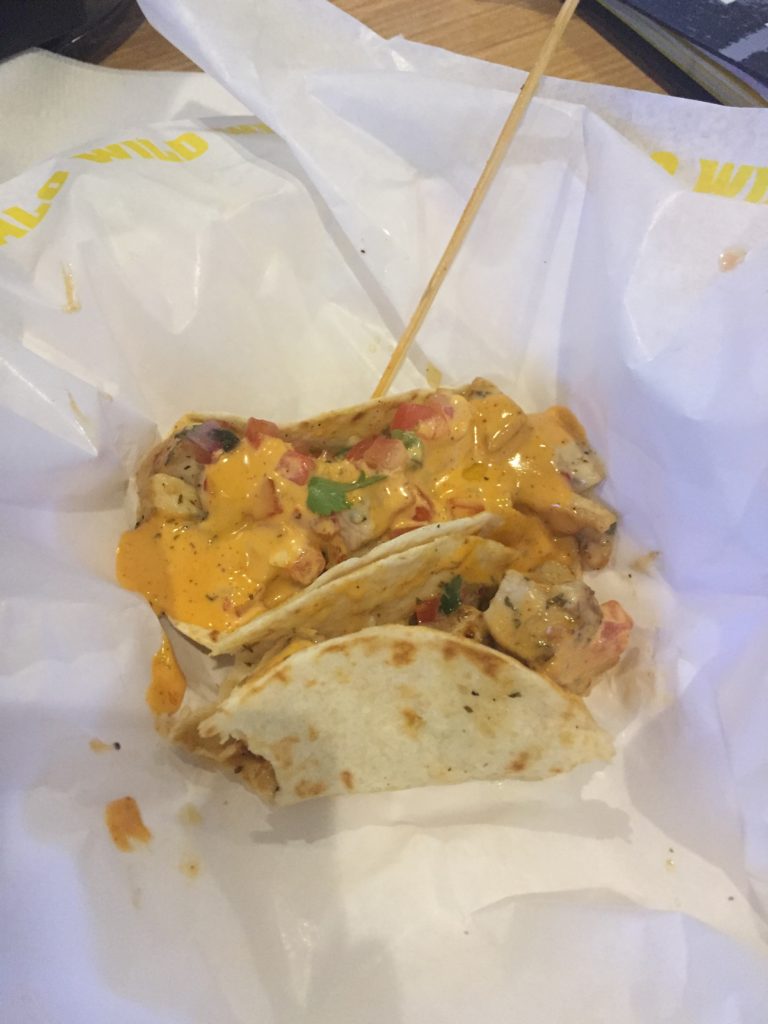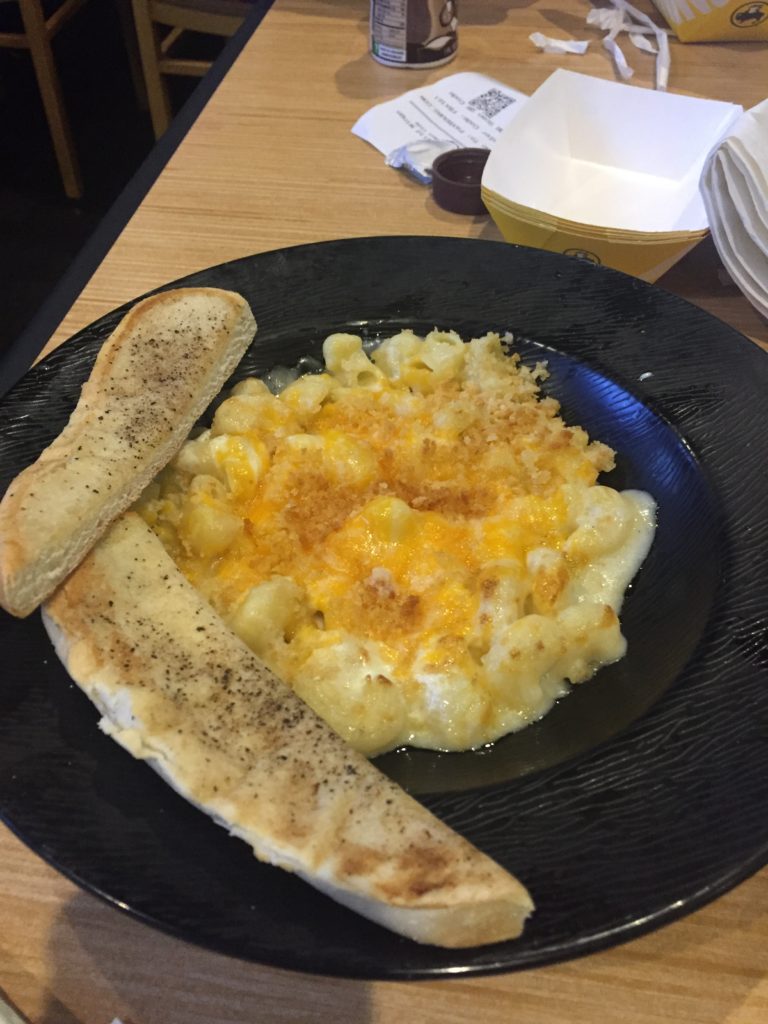 Kid-friendly- 10
We were comfortable, not crowded, no one was standing in front of us, and he was happy. Also, people seemed to be aware of the presence of kids and tried to keep their language clean. Can't really ask for more in a place that shows the game with sound.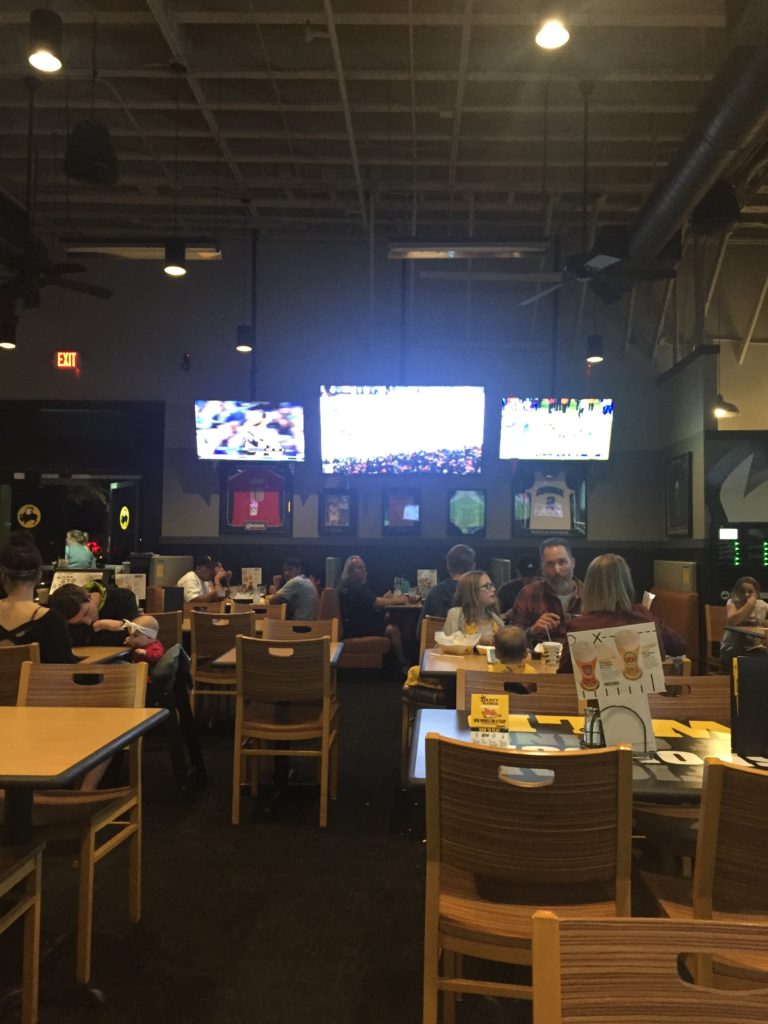 Total Score: 45 out of 50, or 48 if you want wings.
I've been to several places to watch the game that are considered Kid-Friendly, but BWW was my favorite. My view of the game was top 2 because it was the same no matter where you sat. It was a restaurant setting with a watch party vibe, and I definitely recommend it.