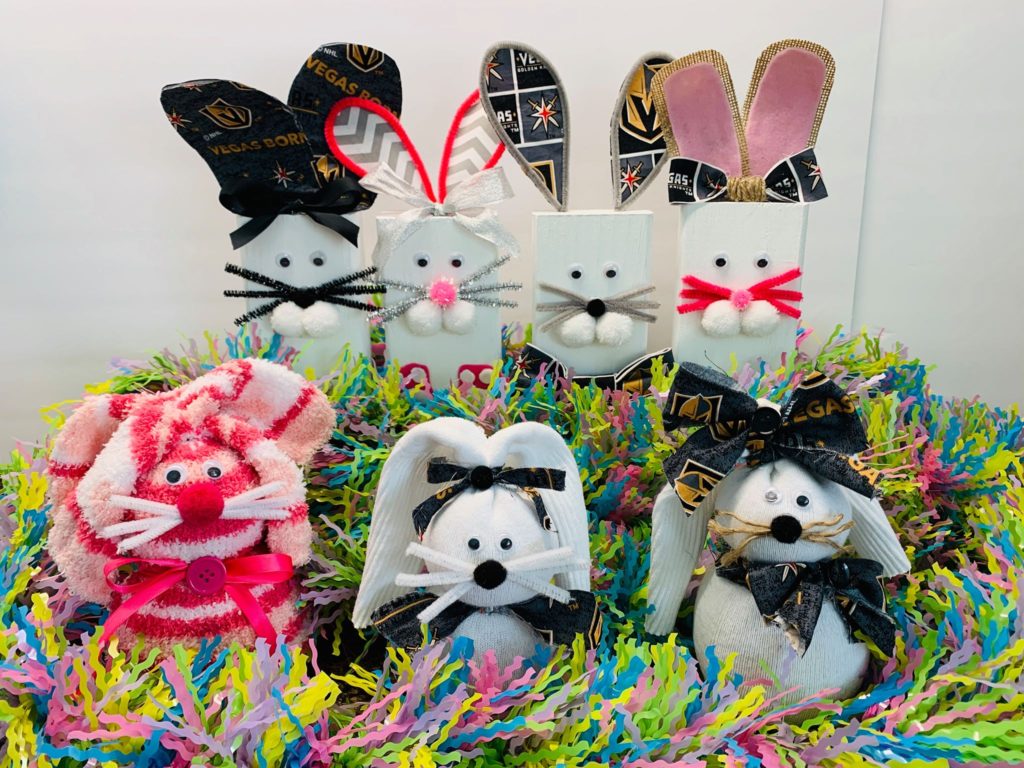 Cute, fuzzy, cottontail Easter bunnies are exactly what we need to bring some light to our current situation, being in quarantine due to COVID-19. Whether this is just a new article to browse, or a project to actually execute, it is something to make us happy and remind everyone how much we love our Vegas Golden Knights.
Supplies
Block of Wood – cut and sanded (Wood Bunny)
White Acrylic Paint (Wood Bunny)
Paint Brush and Tray (Wood Bunny)
White or Fuzzy Crew Socks (Sock Bunny)
Rice (Sock Bunny)
Hair Ties (Sock Bunny)
VGK Material (Cotton, Fleece, Flannel)
Glue Gun and Glue Sticks
Materials below are based on the items you might already have on hand. We understand that these items might be hard to come by, given our current situation, but they are just an example of what you can do if you have them available:
Pipe Cleaners, Googly Eyes, Small Pom Poms, Yarns, Scissors, Ribbon, Fleece, Buttons, Sharpie Markers, and Twine.
Step One: Prepare Bunny's Body
(Wood Bunny) Paint each side of your wood block with white acrylic paint and let it dry.
(Sock Bunny) Fill your crew sock with two or three cups of rice. Use your hair ties to tie the sock towards the top, with enough space for floppy ears, and tie the sock a few inches below that, to create the bunnies head.
Step Two: Bunny Ears
(Wood Bunny) There are multiple options on how to create your bunny's ears. One option is to create a loop with your pipe cleaner and hot glue the fabric to the back side. Another option is to glue together burlap, fleece, and floral twine/pipe cleaner.
(Sock Bunny) You will want to cut the top of your sock (on both sides) right down the middle. This will create two ears, one that flops down on each side. You will also want to cut the ends of the ears at an angle. 
Step Three: Bunny's Face
You can use googly eyes, paint, pom poms, markers, pipe cleaners, and/or twine to create your bunny's face. Use the items you have on hand, your creativity, and a glue gun.
Step Four: Bunny's Tail
You can use a large pom pom or create a pom pom out of yarn for your bunny's tail.
Step Five: Accessories
Using VGK Material, twine, ribbon, buttons, and super glue you can add bows/bowties to your bunny. 
We hope that this tutorial sparks some creativity in you during your spring break/ quaratine. We would love to see what you create!
For questions, or to order crafts from Rachelle, please email her at Rachelle@vgkladies.com.