Last night 9 lucky Mites got to have an experience most of us will never have. They caught glimpse of what it would be like to become a Vegas Golden Knight.
The "Mites" are 6-8 year olds playing in the House League at City National Arena. Last night they were invited to scrimmage at T-Mobile Arena during the first intermission.
8 hours prior to entering the ice for his scrimmage game, Cason O'Dell was given a pre-game interview:
Q: "Are you excited for tonight?"
A: "What's tonight?" (As he sits relaxing on the couch watching tv like a typical 7-year-old on winter vacation.)
Q: "WHAT?!? What do you mean what's tonight?"
A: "Oh yeah! I get to skate during the intermission! Dad gets to help get me dressed." (For a young hockey player who has a dream of becoming a Golden Knight, I am glad he is not nervous or frightened.)
Q: "Do you think you will get to meet a Vegas Golden Knight?"
A: "Yes, I finally get to meet Reaves and Karlsson. I am going to give them my phone number, so they can come over to my house!" 
The Mites stood outside T-Mobile Arena at the VIP entrance awaiting their chance to enter. They were bouncing around, excited while taking pictures and talking with their friends, while the parents stood FREEZING. From that moment on, the Night in the world of a Knight began to transpire. The Mites were taken down the path that their Vegas Golden Knights get to take. The Mites stood shoulder to shoulder with their teammates while "Golden Pipes" sang "The Star-Spangled Banner". They received their last minute rules and coaching from the ref (Matt Flynn, Senior Manager for Youth Hockey for the Vegas Golden Knights), they waited in the tunnel for their time to take the ice, and then came the memory of a lifetime: a scrimmage game in front of the fans inside T-Mobile arena.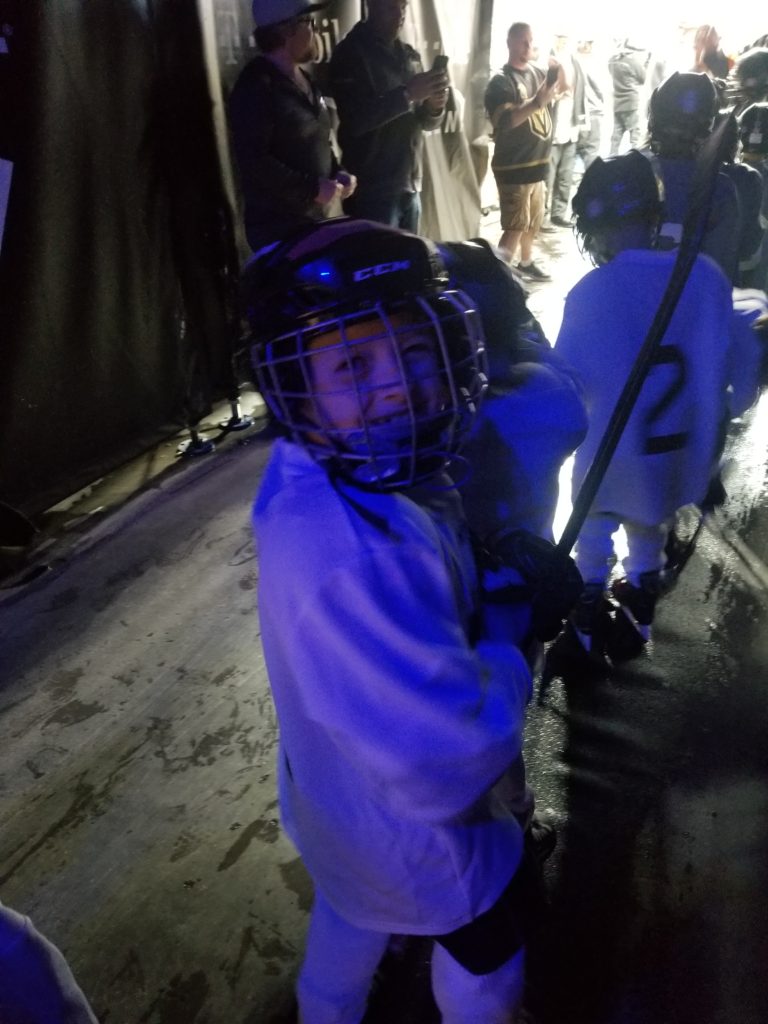 After the scrimmage the Mites had a photo op with Chance and the Golden Knight before heading into the locker room to change.
The Mites were excited to join their family and friends who were up cheering them on. There they could continue to watch the game and even show off their commemorative puck they received from their ice time. 
Before and after bites of food, the "starving" Cason was given a quick post-game interview:
Q: "Did you have fun? What did you think about all that?"
A: "It was cool going out on the ice. I got this puck for free. It's what we played with on the ice."
Q: "Was the ice bigger than you are used to skating on?"
A: "No, but it was weird seeing all the people watching."
After the game while grabbing their gear, the kids got to see Engelland and Schmidt in the hallway while exiting the arena. And to top the night off, the in-arena host, Big D, spoke to Mites teammate, Colin Magdon, and announced that his leukemia is in remission!! It will be a Knight to remember for everyone involved.
Maybe in the future we'll be cheering on one of these Mites as a Vegas Golden Knight. Go Mites Go!
Click Here to check out the video of the game.