This season the wives and girlfriends of the players sported customized jean jackets from Kybaby.  While these jackets are super cute, they come with a hefty price tag of $675.  So we thought it would be helpful to show you how to make your own custom jean jacket, but without the mark up!
These are the Kybaby Jackets: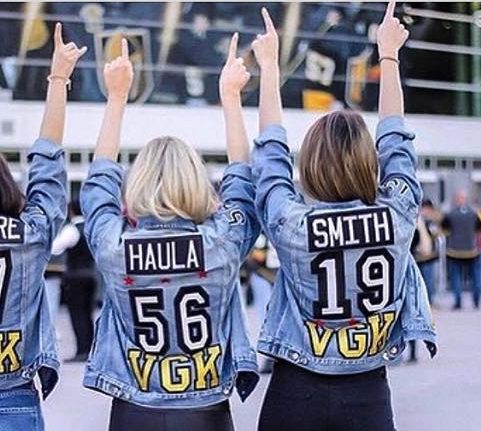 And these are some cute fan-made jackets: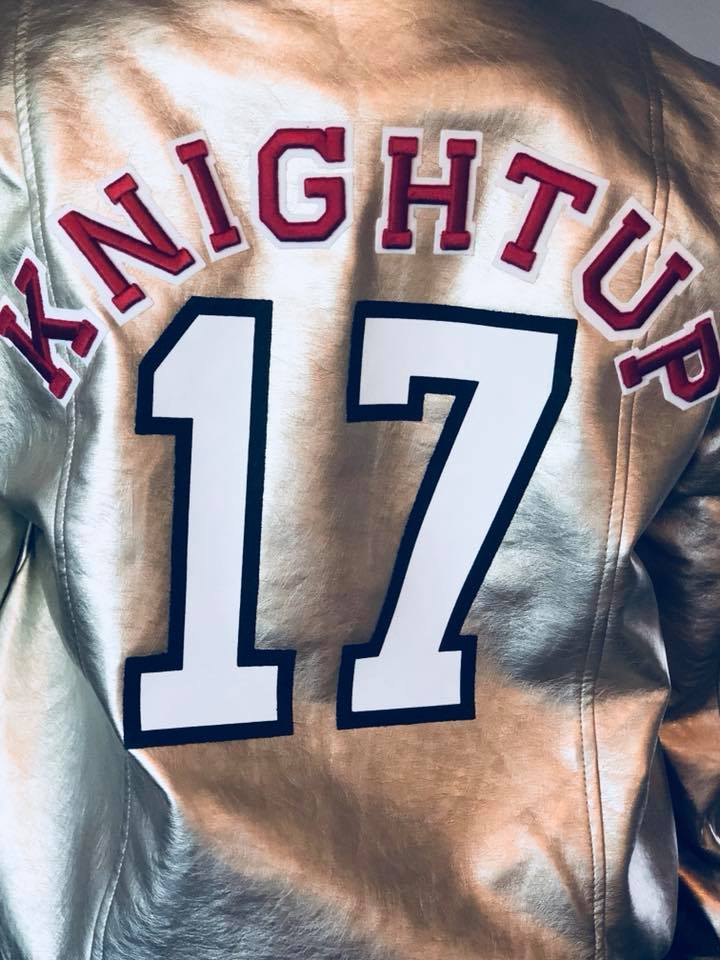 As you can see, there are different ways to do these jackets, but they all come out looking great!
Here's what you'll need to make your own:
Jacket: Doesn't matter what kind.  Could be jean, sequin, leather, or canvas.
Patches
Pins (optional)
Fabric glue (optional)
A sewing machine, or a local tailor.
The idea behind these jackets is that they mimic a hockey sweater (jersey).  There is usually a name on the back, with either a number or a large VGK symbol.  There are also VGK logos and numbers on the sleeves. The front of the jersey has a large Vegas Golden Knights logo on it, with small patches that represent achievements (like the captain symbol, or inaugural season patch). Since jackets are split in the front, and therefore can't accommodate one large logo, we substitute smaller patches and pins.
If you really want to do something unique, you can use a stencils and fabric paint to add words or fun designs.
How to add patches:
There are different ways you can secure your patches.  Some patches are iron-on.  The ones that are not iron-on can be secured with fabric glue, or sewn on.  If you aren't a sewer, you can usually ask a tailor to sew them on for a small fee.
If you're adding patches to a sequined jacket, you'll need to sew them on.
Where to buy patches:
Craft stores like Hobby Lobby, Michael's, and JoAnn's have a variety of letter and number patches.  However if you are looking for the NHL or Vegas Golden Knights patches, you'll have to look online or go to one of the many sports stores around Vegas.
So that you don't need to travel all around town looking for patches and jackets, we've found the most popular ones on Amazon and linked them all here. Just click on the picture!
(These products contain affiliate links. For more info, click here)
Looking for a Jacket? Try these!
This post is not only meant to help you make jackets similar to the ones the WAGS wear, but to inspire you to be creative!  There are no rules for how you should show your support for the team.  So have fun with it!
Have you made any custom clothing to support the Vegas Golden Knights?  Post pictures in the comments below!